Halloween Flowers
Bend an 18-inch-long piece of floral wire in half and wrap double-sided tape around the bent end about five times
Step 2
Hold the tip of a streamer, still attached to its roll, against the top of the taped wire. Then loosely wrap it around the wire four times to create an inner bud, pinching the bottom edge of the streamer against the taped wire as you go.
Step 3
Continue wrapping the streamer around the wire, gathering the paper at the flower's base so that the petals fan out at the top. Continue until you have a full flower. Finish by cutting and securing the flower to the wire with floral tape. Repeat until you have enough blooms to fill a bowl.In a burst of festivity,
We decided we should have some Halloween decorations in the Home-Start MAJIK office. Something 1) dramatic, 2) super cheap, and 3) didn't require us to go to the store.
Behold: trash bag spiderwebs.
To make these, lay a rubbish bag out flat.Trim off the side and bottom seams so you're left with two big rectangles of plastic. Cut each piece into an approximate square (eyeballing it is fine.) Each square will make one spider web.
Fold one of the squares in half diagonally to form a triangle. Fold that triangle in half two more times to narrow it. This is slippery stuff, so use a few pieces of tape to fasten the layers together where the loose folded edges come together. It will help hold the shape together when you're cutting. (If any of the tape turns out to be on the web itself after you've cut it out, remove the pieces before unfolding or the web won't be able to open up.)
Use a black Sharpie to sketch some guides on the plastic: draw a "stem" from the folded point out to the end of your triangle. Then sketch some scallops that come off the stem, like in the diagram below. With a scissors, cut out the negative shapes and unfold your web. Tape several webs together and add extra strips of plastic to connect them if you like.
black craft foam
scissors
fishing line
googly eyes
pencil
craft glue
hole punch
Hanging Foam/Cardboard Bats
Black craft foam, googly eyes and fishing line are all you need to create a whole colony of swooping, weatherproof bats. Kids big and small will love this quick and easy Halloween craft, perfect for adding a spooky touch to your front garden.
Trace and Cut Out Bat With Bat Template
Print out the bat template attached above and fold in half, then cut out (Images 1 and 2). Use a pencil to trace the bat shape onto a piece of black craft foam then cut it out (Images 3 and 4).
Attach googly eyes to the bat's head with a dab of craft glue.
Punch Hole and Add Fishing Line
Use a hole punch to create a hole at the bottom of the bat's body for hanging (Image 1). Slide 6-12″ of fishing line through the hole and knot it  Hang your finished bats from low tree limbs or porch overhangs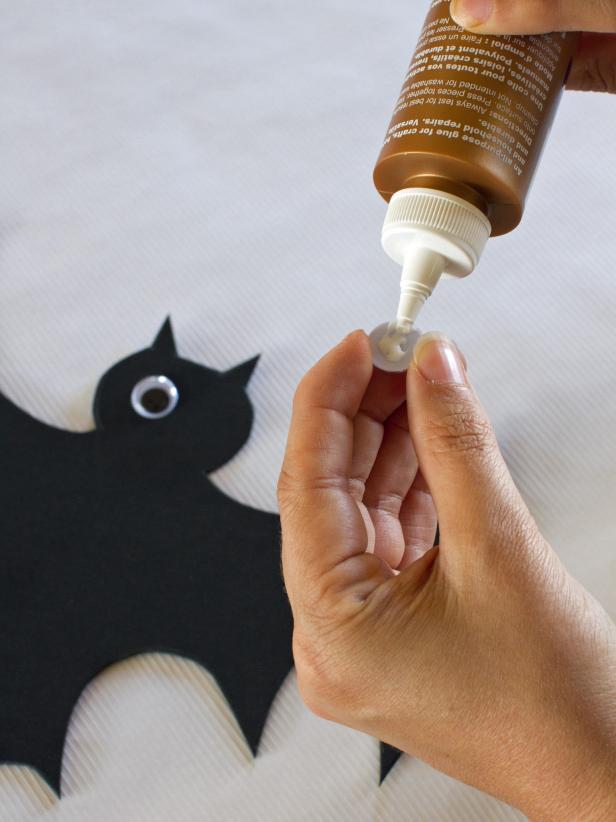 Ghostly Jars