Halloween Spooktacular Party Foods
Here at Home-Start MAJIK Halloween parties often are the gossip at coffee time, who's making what, who has seen a great costume etc, often we are asked by our families for help to plan a party or put together a costume so it's only fair that we try them out first to make sure they're a great success. So here is a collection of some of our party foods that we find have gone down well with our own families.
Ghostly Banana Pops
Large Bananas
Vanilla Yogurt
Mini Chocolate Chips (for eyes)
Popsicle Sticks
Wax Paper
Cut bananas in half and freeze them for 30 minutes. Insert Popsicle sticks and dip them in Vanilla yogurt. Add eyes & freeze until ready to serve. (simply cover imperfections with more yogurt)
Ghostly Strawberries
Strawberries
Vanilla Yogurt
Wax Paper
Dip strawberries in vanilla yogurt, add eyes and freeze until ready to serve.
Octopus Dip!
You need
A couple of orange Peppers
Favourite dip
Cut one pepper in half and add some eyes with edible paint/pens
Cut the rest in to tentacle shapes – traditionally they have 8 but we're sure artistic licence is allowed!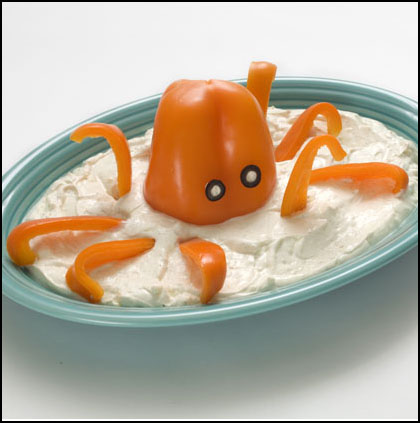 Mandarin Pumpkins!
Get the kids decorating mandarins for the the season – quick easy and you can put your feet up for a few!

Rice Krispies Frankenstein
. To start making this Halloween recipe for your kids, insert lollipop sticks into the bottom of your Rice Krispies Treats®.
2. Prepare your icing. Gel food coloring works best.
3. Trim the corners of your zip-close bags.
4. Insert an icing connector (available at craft stores) in the corner hole you cut, spoon in your icing and attach your icing tip to the outside of the bag.
5. Using the #46 icing tip and green icing, pipe one long eyebrow and a shorter flat nose.
6. Using the #2 icing tip and green icing, pipe two dots for the eyes.
7. Add candies. And pipe a squiggly mouth, a scar and two dots on the sides for his bolts.
8. Then attach his  bolts.
9. Using the #233 icing tip and black icing, pipe on Frankenstein's hair. You can use the #2 tip for this too, it will just take a bit longer.
10. If you want to dress him up a bit, cut a green and white paper straw in half and insert the lollipop stick into it before displaying your Treats™ in little orange candies.